18th Century Southern Longrifle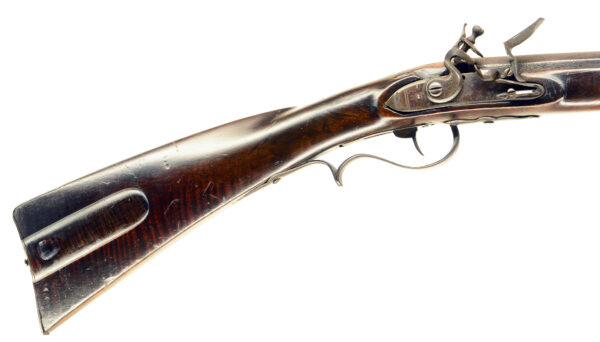 18th Century Southern Longrifle
18th Century Southern Longrifle
Beautiful 18th century longrifle with wooden patchbox from the Yost Collection, Albemarle County, Virginia. Mr. Yost collected early weapons from early 1930s' until the mid-1970's. His notes state that he purchased this longrifle from a family at Prospect Hills, Madison County, VA. Madison County is just north of Charlottesville, VA. There is no mention of a family name and I have not been able to locate a property known as Prospect Hill in Madison County, VA.
I sold this longrifle for Mr. Yost to Norm Flayderman at the Pottstown Gun Show in 1978 for a 10% commission and then purchased it back for my collection many years later. (Yes, I am ashamed to tell you how much Norm paid me for the great southern longrifle, but I will tell you that I told Norm, who I did not know at the time, NO CHECK! His reply, with my two little daughters playing under the table, you don't have any money, do you son? My reply…NO SIR! He purchased 16 longrifles from the collection that day for $3,600.00 ($300 in cash so I could get home and the balance with a check).  I made $360 that day which was equal to two week salary as a pharmacist. Note: four of the longrifles I sold to Norm that day are pictured on the cover of the last catalog Norm ever published. As I remember the total asking price was $38,000.00.  Not a bad return on investment for 20+ years not to mention the time he had to enjoy them!

I argue that this is an early southern longrifle probably made by an unknown Virginia gunsmith. Features such as a approximately 60 caliber bore with straight rifling, a wooden patchbox, 1¾" across the butt at the patchbox, 42½"forged slightly swamped octagon barrel, forged iron trigger guard, brass side plate, iron thimbles and nose cap, a tang that terminates flat make a compelling case for this longrifle having  an 18th century southern origin.
In addition, the lock is an early original flintlock that dates to the 1750 -1760's and is without a bridle. The iron trigger is an early forged style and the stock profile suggest southern origin. The longrifle is 57¼" overall length and appears to have a burl walnut stock (possibly figured maple).
Given the similar profile of the southern Revolutionary War muskets attributed to having been made at the Augusta County Gun Factory in Staunton, Virginia, I believe that the early gunsmiths styled their southern longrifles for Virginia longrifle militiamen to carry long distances. 
I believe this longrifle was made in Virginia during or shortly after the Revolutionary War. It is in exceptional original condition and will be a great addition to any collection.