Buermann Spurs (Marked with famous "Star" Brand)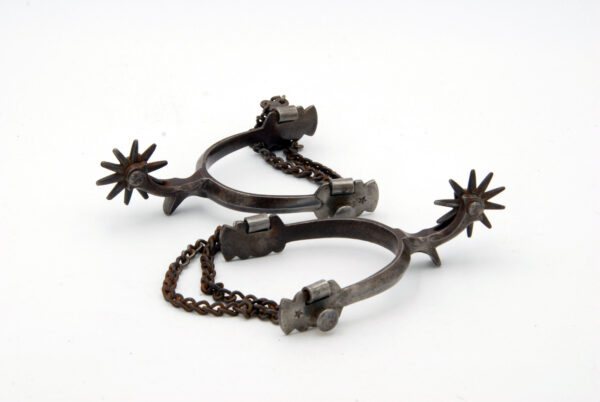 Buermann Spurs (Marked with famous "Star" Brand)
$950.00
Buermann Spurs (Marked with famous "Star" Brand)
Buermann Spurs are one of the most famous and sought-after designs from one of the most famous makers in Cowboy Spur history. He created many different types of spurs and also aggressively patenting his brands/logos and designs.  Whatever type or style was needed, Buermann was the first to step up and create them.
August Buermann was born in Germany in 1842 but later traveled to the US after taking his apprenticeship in lock smithing. After joining the army as a substitute at the age of 22 he began making spurs for the civilian and military. Buermann fashioned the now infamous "Star" Brand that adorn his designs and creations.  By the early 1900s, the majority of military men were wearing August's heel spurs and army officers were also entitled to wear heel chains and were all privately purchased from Buermann.
August also had a son, August Jr, who succeeded him in running the company when he retired in 1896.  August Jr was also a good businessman like his father but, in 1914 the Buermann name and design was purchased by North and Judd, a large established hardware company. The infamous "Star" Brand of the Buermann boot spur was no more and was replaced by the North and Judd anchor mark.
A wonderful forged and filed set of Cowboy Spurs with original double heel chains. Fine condition. Buermann was known as one of the "Big Three Spur Makers" along with Garcia and Crockett…