Engraved Native American Powder Horn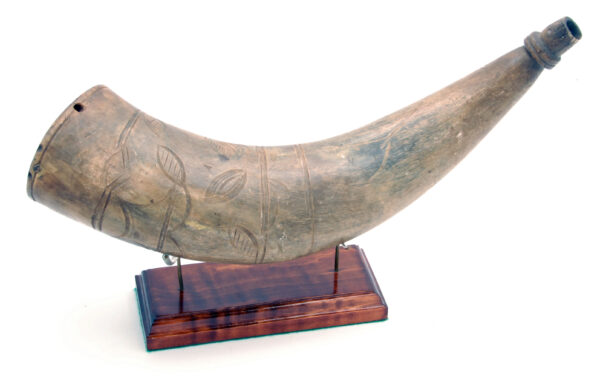 Engraved Native American Powder Horn
$1,500.00
Engraved Native American Powder Horn
Mid-18th Century engraved Native American Powder Horn from the James Parsons Family, Parsons, VA  (now WV). Based on a rare book found in the City Library in Parson, WV and family history, James was captured by the Shawnee during the French and Indian War. He spent two years with the Shawnee in the Ohio Country. He became friends with one of his captors and was allowed to leave the Shawnee after the French and Indian War, with his Native American friend. They traveled to what is today Parsons, WV where James founded a settlement along the confluence of Shaver Fork and Black Fork that forms the Cheat River. Black Fork was named after the Native American (Black Foot) that came with James Parsons. Based on Parsons family history** this powder horn belonged to Buckeye Black Foot who lived with James Parsons until his death. There is un-collaborated history that Buckeye became known as Buckeye Parsons and that he took a wife while living in Parson, WV and they had several children.
This beautiful deep engraved back-country powder horn is in 100% original condition. It measured 14 ½" around the curve and it has a 3 ½" fruit wood plug. There is wear along the edge of the horn where the horn meets the plug. The engraving is that of an amateur  engraver and is representative of a back-country motif made up of the Buckeye leaf and the mountain horizon designs. The use of the Buckeye leaf motif perhaps comes from his life in the Ohio Country or even from the mountains of WV which is known for sweat yellow buckeye.
Neat history associated with the of the friendship between a frontier white man and a Native American he befriended.
** Mr. and Mrs.  Parsons living in Parsons, WV – on a hill above the beautiful Cheat River Park in downtown Parsons, WV and Norman Baker, at Moorefield, WV (Parsons Family Reunion)