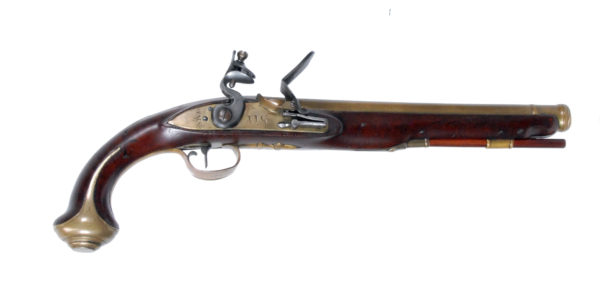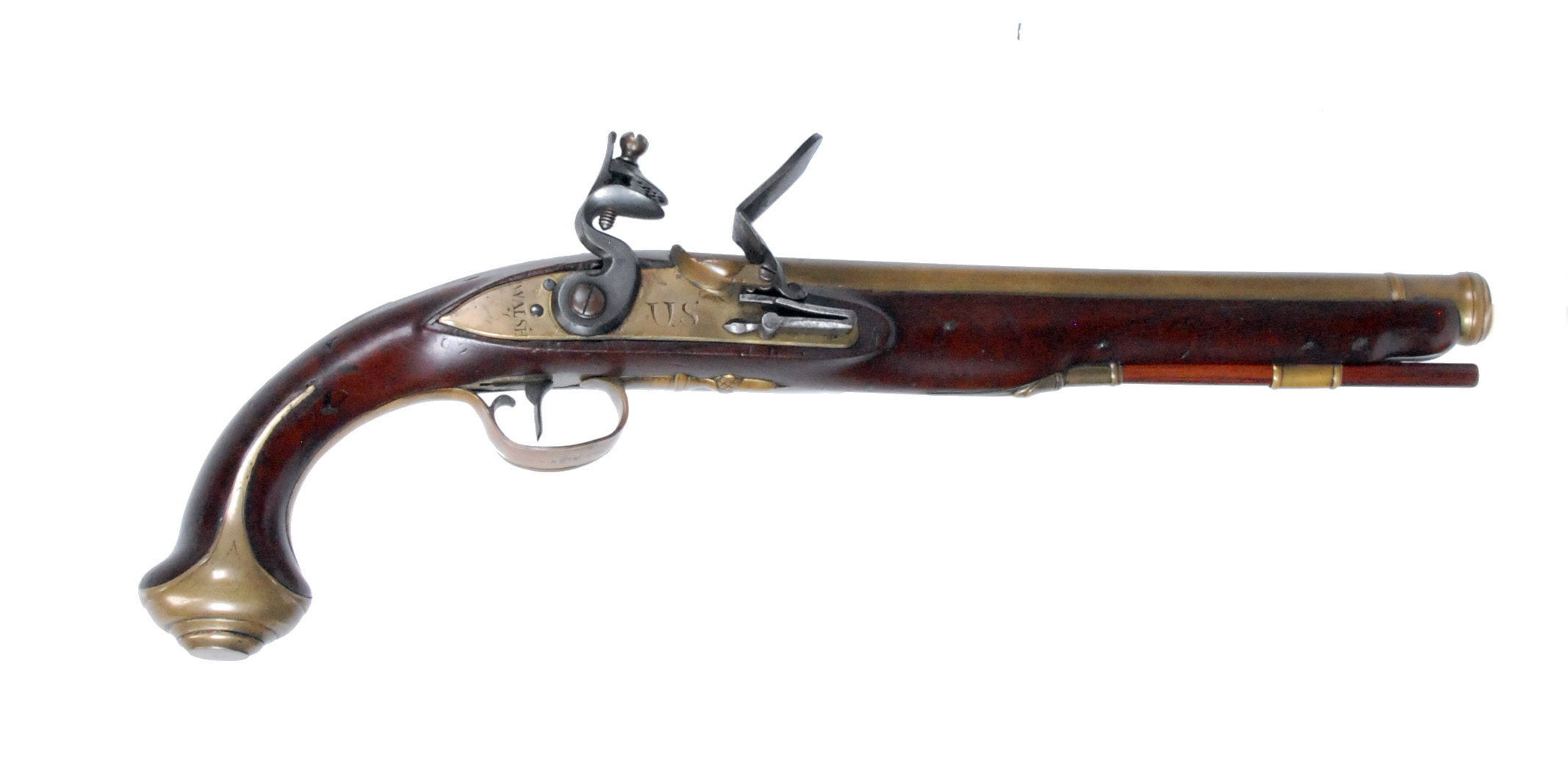 Walsh Flintlock Pistol
$8,750.00
James Walsh, Gunsmith
Philadelphia Committee of Safety Armory
Revolutionary War, Committee of Safety flintlock pistol made by James Walsh. Walsh made weapons for the Pennsylvania Committee of Safety while working at the Philadelphia Armory.
The Philadelphia Armory was founded in 1776 and was halted in 1777 when the City of Philadelphia was under siege. The Armory was started again in 1779 under John Strode as superintendent and was named the Continental Armory. This armory operated until 1781. James Walsh made muskets and pistols at the armory during both operational periods.
This rare pistol has a brass cannon barrel with a large bore. It is made with a brass lock plate and pan. The lock plate is engraved Walsh on the tail of the lock and has a large US engraved between the cock and the frizzen spring. The Continental Armory had access to the Philadelphia Brass Foundry, which was a Continental establishment that provided cast brass parts including brass barrels, trigger guards, side plates, butt plates, and ramrod pipes to the Continental Armory.
The engraved US on the lock plate suggest that the pistol was made in 1779 when US marking on Continental arms had been mandated. The fact that in 1779, James Walsh stated to the Pennsylvania Committee of Safety that he was unhappy with the pay he was receiving and offered his tools for sale also suggest that this pistol was made by him in 1779.
The pistol is brass mounted and is stocked with a wood that appears to be curly cherry but may be curly walnut. The lock is original flint. The ramrod is cherry however it is probably a period replacement. One of the grip straps on the side plate side of the pistol has come unpinned in the wood and sprung out a 1/16 of an inch which is easy to feel but does not detract from the pistol. The barrel is 9 ½" long and the overall length of the pistol is 16". The pistol has wonderful patina and is overall in very good antique condition with no cracks or missing parts. This is a wonderful  Revolutionary War flintlock pistol that was made by a documented Philadelphia gunsmith for the Pennsylvania Committee of Safety.