WWII Nichols Fighting Knife with Sheath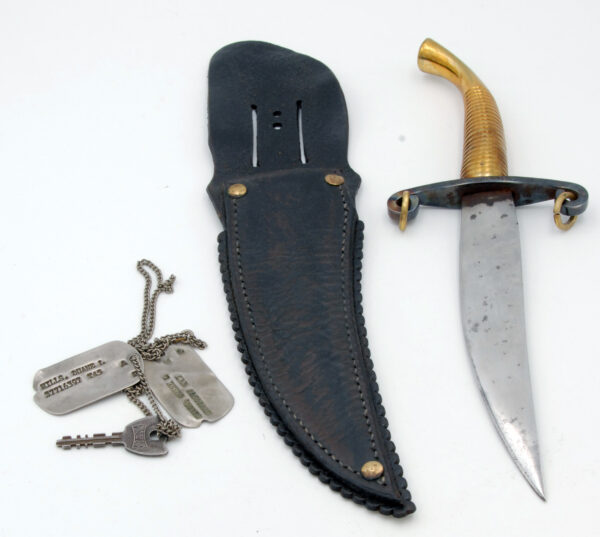 WWII Nichols Fighting Knife with Sheath
$2,200.00
WWII Nichols Fighting Knife with Sheath
WWII Very Rare Nichols Fighting Knife with Sheath that is in Excellent Condition. This fighting knife was made for a WWII Marine, Duane L. Mills.  His name and searila number are stsamped on the cross guard of the knife. Also, included are the Duane Mills dog tags. A fine example of one of the rarest and most desirable maker-marked war period fighters.
Floyd Nichols, was a blacksmith from David City NE, and is famous among fighting knife collectors. The full blade is 7 3/8" long, shows no personal sharpening. Never cleaned and there is minor rust. Guard is marked with the Marine's name and Marine serial number. This knife is correctly stamped NICHOLS and does not have the nickel on the pommel that was found on less desirable  pre-WW II knives.
I would describe the knife as Very good to excellent with minor aging. The original and fitted Alfred Cornish scabbard is in excellent condition. The original leather sheath is solid and functions just fine. All leather is rich and supple. The quantity made is believe to be only a few hundred and the survival rare for this fighting knife is low and to locate one with marine dog tags is very rare. These knives auction for much more even without original dog tags. Great WW II collectible with known owner…..